1951 Porsche 356 SL Gmünd Coupé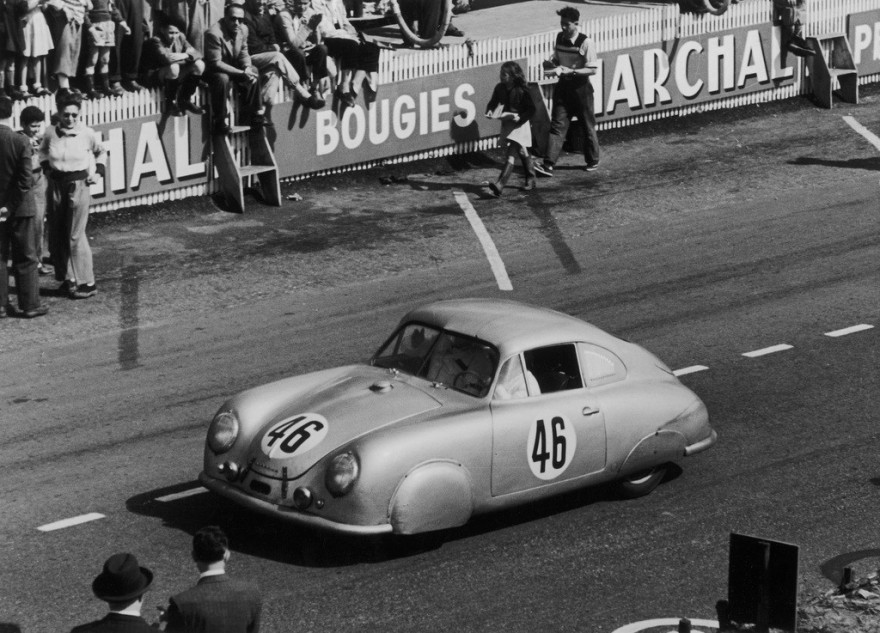 After designing legendary cars in the prewar era such as the Mercedes SSK, Porsche moved south from Germany to Gmünd, Austria to design his own cars.
The very first of these was a small roadster made around VW components. Afterwards, it was decided a closed coupe with the engine behind the rear wheels was most advantageous.
Together with Erwin Komenda, Porsche designed the Gmünd Coupé in just three months. The first Coupe was finished in june of 1948 and by mid-1949 more than 40 had been completed.
These Gmünd coupes featured a hand-beaten aluminum body and were powered by a air-cooled boxer-4. This general layout would shape every Porsche that followed thereafter.
Subsequent transfer back to Zuffenhausen meant that body production of the 356 would be relocated to Reuter and the aluminum was replaced by steel.
Right from the outset, motor racing was an important factor in the success of the Porsche marque. Aside from the possibility of testing and subsequently perfecting the technology of the sports cars under tough racing conditions, motor sport proved to be the ideal stage to showcase the sporting qualities of Porsche sports cars in front of insiders and fans. It didn't take long for enthusiastic press reports to appear and the Porsche 356 became the secret weapon amongst race drivers.
The small German sports car manufacturer attracted attention around the world when, in 1951, the French importer Auguste Veuillet and his compatriot Edmond Mouche won the hotly-contested 1.1-litre class at the 24 Hours of Le Mans with a works-entered 356 SL.
Porsche was the first automobile manufacturer after the war to compete at Le Mans.
The 356 SL lived up to its name: The SL designation means "Super Light" and indicates the aerodynamically-optimised aluminium body with covered wheels. The fuel tank under the front hood was increased to 78 litres, making fewer pit stops necessary for the 356 SL. Driving the "aluminium can", as the mechanics lovingly called the race car, was a 46 hp performance-enhanced four-cylinder flat engine. With this, the streamlined Coupé reached a top speed of 160 km/h, which was enough for the Veuillet/Mouche team to average 118.36 km/h, cover 2,840.65 kilometres, and set the class record.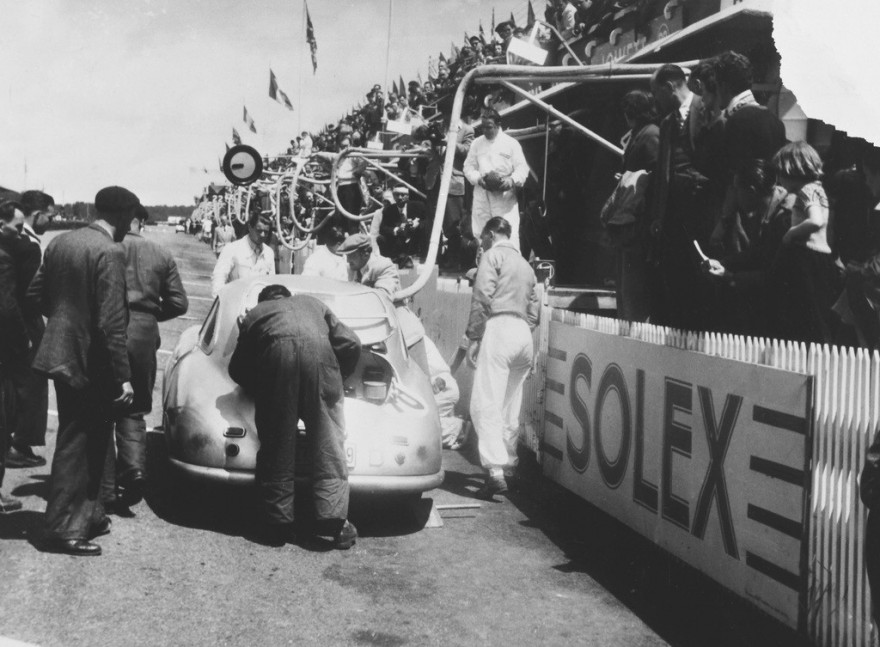 Only about 30 of the total 47 Gmund coupes are known to exist. Only 7 or 8 of these were factory works racecars.
In Detail
| | |
| --- | --- |
| built at | Gmund, Austria |
| production | 9 |
| engine | Air-Cooled Boxer-4 |
| fuel feed | Twin Solex carburetors |
| displacement | 1086 cc / 66.27 in³ |
| power | 34.3 kw / 46 bhp |
| specific output | 42.36 bhp per litre |
| bhp/weight | 71.88 bhp per tonne |